MEMSDrive Word's 1st 5-Axis OIS in Smartphone Puts on Strong Showing at CES
MEMSDrive, as the world's leading mobile imaging solution provider, wrapped up a successful showing at this year's Consumer Electronics Show (CES 2018) held in Las Vegas. For the first time, MEMSDrive has taken the 1
st
generation product-- MEMS OIS to the show, presenting the world the 1st 5-axis OIS (optical image stabilization) technology in smartphones!
From 3-axis to 5-axis, this is huge breakthrough of MEMSDrive team and is the first 5-axis OIS in the mobile imaging area as well, symbolizing an era of realizing DSLR-level photography in mobile devices!
About MEMS OIS
MEMS OIS is sensor-based OIS technology and the first generation OIS actuator of MEMSDrive. Through shifting the sensor, MEMS OIS could provide fast and accurate image stabilization against motion of the camera.
The fundamental advantage of MEMS OIS lies in that it works through sensor shifting instead of lens, which is massively adopted by the traditional VCM OIS. This allows MEMS OIS to transcend the traditional VCM OIS' limitations of being unable to compensate for shaking of roll axis, realizing the overall compensation for the 5-axis of pitch, yaw, roll, X translation and Y translation. The combination of high-speed in position and subpixel sensor movement capabilities opens up a vast new world of imaging opportunities!
MEMS OIS key benefits include:
5-Axis Image Stabilization
Real time Pitch, Yaw, Roll, X-axis shift and Y-axis shift compensation enabled by sensor shift technology
Sub-micron accuracy and in-position within 10ms
Radical Noise Reduction in Low Light
Longer exposure time and lower ISO to capture sharper image
Computational Imaging Enabled
Super resolution and consequent equivalent of optical zoom
Superior Advantages in DUAL CAMERA
No magnetic interference and hence decrease the camera module size vs. traditional Voice Coil Motor
Ultra-Low Power Consumption
100X+ lower power consumption vs. traditional Voice Coil Motor. No heat generation ensures high quality image.
Fully compatible with all AF system and lens design; highly automated for mass production.
From 3-Axis to 5-Axis, Our Pursuit is the Best OIS
With months of painstaking effort by MEMSDrive R&D team, we are now adding compensation of X and Y translation shake into the existing pitch, yaw and roll axis technology. With real 5-axis OIS in the application of smartphones, to make your cellphone a professional camera at hand is just around the corner!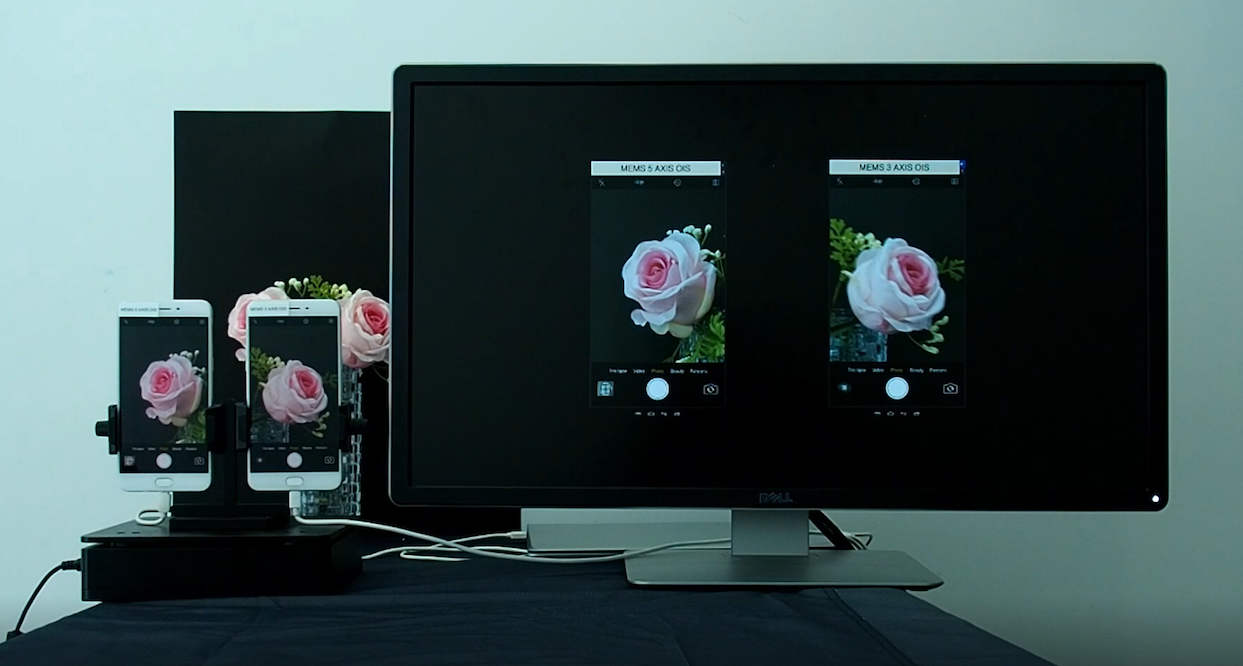 MEMS OIS 5-Axis vs 3-Axis Compensation
Click the links to watch the video:
http://v.youku.com/v_show/id_XMzM4NTM0Nzc4MA==.html
(China)
https://www.youtube.com/watch?v=VM9kAgRzWRs
(Other countries)
As we can see from the demo video, when MEMS OIS 5-axis phone and previous 3-axis phone are placed on the same shaker and set in the preview mode, while the picture displayed by the 5-axis phone with compensation of X and Y translation is clear and stable, that of the one without compensation for X & Y translation is shaking from one side to the other.
MEMS OIS—more than OIS but a Comprehensive Imaging Platform
In fact, what MEMS OIS provides is more than anti-shake but a superior mobile imaging platform through accurately shifting the sensor and software computation. On this platform, technology such as super resolution, 3D, portrait mode, live picture, VR/AR, AI and more will be best guaranteed from the hardware side.
Up till now, MEMSDrive has been in close cooperation with cellphone industry chain partners and we are expecting in the very near future the end consumers will have smartphones with MEMS OIS at hand, one which could become a professional camera at anytime, anywhere! We also believe MEM OIS application in AR/VR, automobile, wearables, AI and other areas won't be long.
Big thanks to all MEMSDrive friends showing your continuous support in us again! We will continue to drive higher MEM OIS performance and bring out more revolutionized solutions to the mobile imaging world!