Nikon Joins In-Body Image Stabilization (IBIS) Group
In Body Image Stabilization (also shortly known as "IBIS") is becoming increasingly favored by camera giants these days.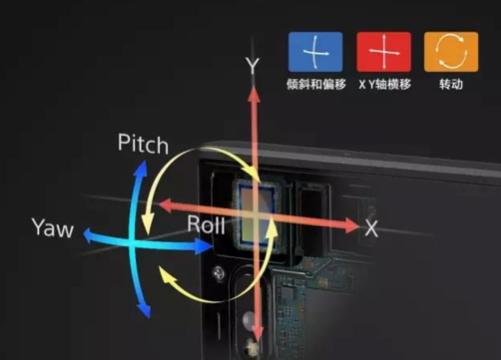 In November 2014, Sony adopted the 5-axis in-body image stabilization in its A7II full frame mirrorless digital camera for the first time. That was also the "first" for the world to have 5-axis IBIS in a full frame mirrorless camera, which marked a breakthrough for the imaging industry. In the past years, other brands such as Olympus and Pentax also followed its step. Now, another giant—
Nikon, after a long time of wait-and-see, joins the group.
In Nikon's newly released flagship full frame mirrorless camera Z7 in August, in-body image stabilization has been highlighted as one of its most exciting features, providing 5-axis stabilization and reducing shake by up to 5 stops. For a company which is always rigorous on innovative technology, Nikon's move has conveyed to the world its confidence in utilizing the in-body image stabilization technology.

What is in-body 5-axis image stabilization (IBIS)?

5-axis image stabilization means shake compensation of all round 5 axes including X, Y, Pitch, Yaw and Roll.
It provides image stabilization under different photo taking scenarios. For example, when we are using telephoto camera to shoot a bird in a tree, compensation for Pitch and Yaw axes shake could help avoid blurry pictures; Compensation for X and Y shift could help with close shot of insects, flowers and etc.; Roll axis shake compensation could ensure image stabilization of buildings or sceneries when shooting video or in low light conditions. When people are taking photos, hand shake could come in different directions, this is why all round image stabilization is indispensable, no one axis should be ignored.
When it comes to in-body image stabilization (IBIS), it refers to optical image stabilization through shifting the sensor inside the camera.
By shifting the sensor in opposite direction of the sake, blurry pictures are avoided. Compared with lens image stabilization, IBIS shows competitive strength as below:
1. IBIS provides all round 5-axis image stabilization including "roll" axis, which lens image stabilization cannot
2. IBIS goes with any kind of lens
3. Shake may come at the camera body but not only the lens sometimes, hence in-body image stabilization is a must
4. The agility and reacting time of IBIS is better for video mode image stabilization
5. IBIS could achieve features others than image stabilization such as super resolution and etc.
World's smallest and first IBIS in smartphones—MEMS OIS

With the increasing importance of photography in smart phones in recent years, higher requirements are raised out to image stabilization which plays a key part in the image quality. One fact is that mobility nature of smartphones makes it more susceptible to different kinds of shake and the camera module size is small. This boasts big challenge for image stabilization provider. Nowadays, although the market is dominated by lens-based image stabilization VCM OIS manufacturers, there're severe limitations such as absence of roll-axis compensation and big size. Taking this as an opportunity,
MEMS Drive adopts a same principle as what high end professional cameras such as Sony does and came out with its sensor-shift OIS—MEMS OIS actuator. MEMS OIS is the world's smallest as well as first 5-axis IBIS in smartphones!
Comparisons with flagship phones such as iPhone X, Samsung Note 8 and Huawei P20 Pro (which all adopt VCM OIS) have shown MEMS OIS' superior OIS performance. MEMS OIS is bringing DSLR-level imaging to the mobile world! While in the same time, the implementation of MEMS OIS in the mobile devices will in turn enhance promotion of IBIS.
Read more about MEMS OIS: